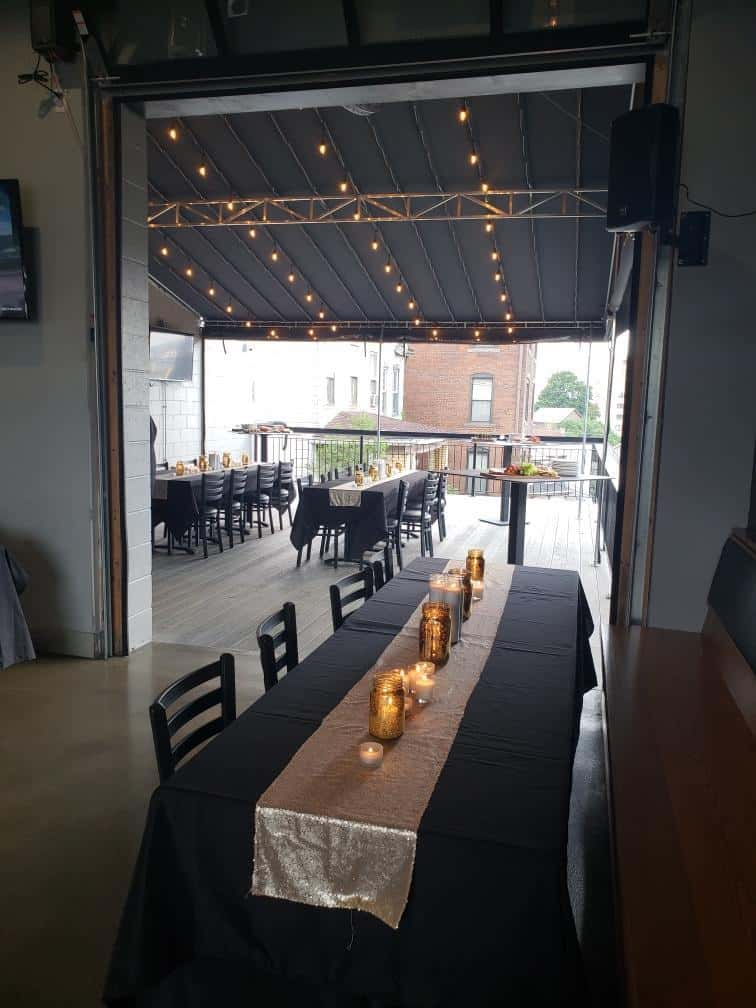 Catering and Parties
Plan your Event!
Plan your event at Coughlin's Law! Perfect for any occasion, large or small - available for lunch, dinner, late night or happy hour events. Let our staff and beautiful views of Downtown Pittsburgh set the mood for your event today! Can accommodate groups of up to 120 people and can cater the event to your personal specifications. 

Please call 412-586-5673 for availability and pricing
Become a VIP
Be the first to receive updates on exclusive events, secret menus, special offers/discounts, loyalty rewards & more!
Coughlin's Law Party Menu
Appetizers
each serve 40-50 people
Send to a friend
Share this menu with your friends ahead of time to get their mouths watering.
Salads
Each serve 25 people 

*Add Chicken or Shrimp to any Salad - MRK$
Sliders
18 per order - $85
Taco Board
12 Mix & Match Tacos - $65
*choose up to four Tacos from current menu - served with Salsa Rojo / Limes
Ala Carte Sides
each serve 25 people
Happy Hour Spread - $350
Serves 25 - Pick Three Party Sized Portions of Any Bites!
Fiesta Package - $375
Serves 25 - Includes Choice of Hard or Soft Taco Shells / Ground Beef / Smoked Shredded Chicken / Queso / Chips / Salsa / Pico / Jalapenos / Sour Cream / Limes / Queso Fresco / Cilantro
BBQ Package - $1000
Serves 50 people - BBQ Chicken / Smoked Brisket / Pulled Pork / Coleslaw / Baked Beans / Corn on the Cobb / Potato Salad / Corn Bread with Honey Butter

*Includes Slider Buns (100) / Lettuce / Tomato / Red Onion / Pickles / House BBQ / Texas BBQ / Carolina BBQ / Ketchup / Guinness Mustard / Mayo / Whipped Butter
Brunch Package - $400
Serves 25 people - Includes Scrambled Eggs / Bacon / Sausage / Hash / Biscuits / Sausage Gravy / Fruit Salad 

Pick 2: Waffles - Pancakes - French Toast
(Includes Whipped Butter / Seasonal Jam / Local Maple Syrup
Lunch Package - $325
serves 25 people

Pick 2 Salads: House Salad / Caesar / Baja Cobb / Strawberry Avocado
*Add Chicken or Shrimp MRK$

Sandwich Board: Smoked Cheddar / Swiss / Provolone / Turkey / Ham / Lettuce / Tomato / Red Onion / Pickles / Homemade Chips
*Includes Tuna Salad / Egg Salad / Chicken Salad

Pick 2 Bread Options: White / Wheat / Multigrain / Brioche Buns / Slider Buns
Pasta Bar - $650
serves 50 people

Pick 2 Pastas: Angel Hair / Fettuccine / Spaghetti / Linguine / Cavatappi / Penne / Rigatoni / Campanelle 

Pick 2 Sauces: Marinara / Alfredo / Pesto / Scampi / Arrabbiata / Vodka Sauce 

Includes: House Salad / Dinner Rolls / Whipped Butter / Parmesan Cheese 

(Optional) Add Choice of Protein(s) MRK$
Grilled Chicken / Chicken Parmesan / Eggplant Parmesan / Vegetable Medley / Meatballs / Shrimp / Mussels / Bolognese / Sweet Italian Sausage / Hot Italian Sausage
Dessert Bar - $350
serves 50 people - Funnel Cake Fries / Chocolate Syrup / Strawberry Syrup / Caramel Syrup / Homemade Whipped Cream / Powdered Sugar / Cinnamon & Sugar / Rainbow Sprinkles / Cherries / Mini Chocolate Chips / Mini Marshmallows